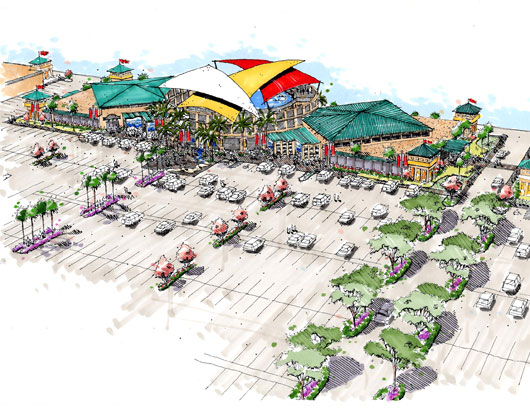 aquadome
CLIENT: Joint Venture
(to be announced)
The AquaDome is the newest attraction component being developed and branded within the Aquataurius/World Water Sports/ Divers Direct Retail divisions. The AquaDome facility prototype was designed and developed with the client's growing need to accommodate a greater attraction based and exhibition/dive equipment demo area and underwater film studio complex. The 300,000 to 1,000,000 gallon capacity fresh water environment and facility's site plan are carefully integrated within the retail environment. Facility design compliments guest access to the retail/education/exhibit areas while fully immersing and engaging the retail guests experience within both the Recreation and Sport Diving environments and the surrounding retail amenities.





msla's role: Overall master planning, preliminary ride concept and attraction design intent and full-service consulting team (including Civil/Electrical/Mechanical and Structural Engineering), concept design and facility programming, detailed site design and theme development, future expansion planning, themed area development and project phased implementation. In addition, MSLA provided assistance with the early stages of ride, equipment and attraction vendors, procurement, and construction administration.