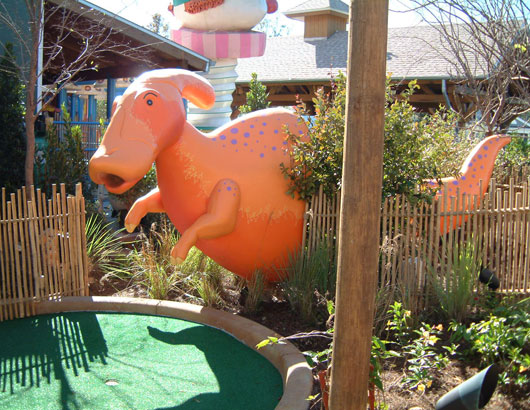 give kids the world village
CLIENT: GKTW
210 South Bass Road
Kissimmee (Orlando), Florida
Give Kids The World Village (GKTW) is a 51-acre, non-profit resort for children with life-threatening illnesses. In collaboration with Universal Orlando, Marc's Dino Putt is the creation of the seven-hole themed miniature golf course catering to a level of 100% accessibility and playability that is based around a prehistoric land of friendly character dinosaurs. The landscape architectural vision was to playfully integrate a miniature golf game into a highly themed attraction while safely maintaining an environment where children could play. Lush subtropical and native plant species are surrounded by the echo of splashing waterfalls with mist and fog effects bring a sense of mystique to this prehistoric playground. The course meanders through a lakefront setting with lagoons, a 30-foot tall volcano mountain and prehistoric pals fully enveloped by a jungle-like setting.





msla's role: In conjunction with Universal Creative and a local Orlando A & E firm MSLA provided full landscape architectural services in kind including conceptual design and Master Planning services for the miniature golf, water features and attractions as wells as Detailed Design & CD services for all grading, planting, irrigation systems, themed area development including the project's natural and artificial rockwork, Golf Course design, Water Feature and Lagoon Design, Lighting System and Special Effects Design Development and Integration of existing facilities and Children's Train Ride. MSLA also provided construction administration services for this project in conjunction with Universal Creative. Also noteworthy to this project is MSLA's key role as prime consultant, supporting civil, electrical, mechanical and structural engineering team design coordination, support and administration.