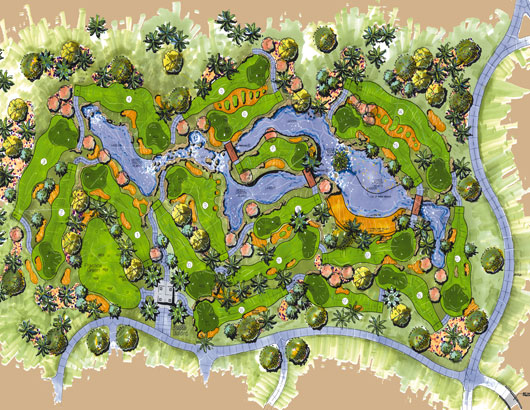 atlantis resort golf facility
CLIENT: Sportexe & Sun International
Atlantis II Resort and Casino
Paradise Island, Bahamas
The Atlantis Challenge Golf facility is a 18-hole competition links style putting course and recreation center. Designed as part of the phase two 2,000-room hotel, casino, marina, convention center expansion, the 3.0-acre realistic golf putting course caters to both the family segment of the market as well as a practice facility for the avid golfer. The landscape architecture combines meandering river and waterfall features with tropical gardens creating both an intimate nature experience for the golfer as well as premium hotel views from adjacent guest suite balconies.





role: Completed prior to joining msla, the principal landscape architect's role included assessment of the site and its surroundings and to develop the initial visioning study that set a framework for the character layout of the facility. Also to develop the golf course routing & landscape master plan concept, and assist in the creation of the entrance pavilion experience providing patrons with the opportunity to purchase products and paraphernalia that reinforce brand recognition. Followed by full landscape architecture design development, final construction and specification documentation, and contract/site review and administration.