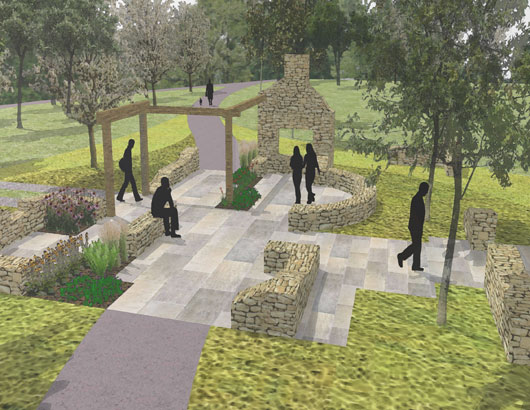 jolly miller park
CLIENT: Toronto Parking Authority
3885 Yonge Street
Toronto, Ontario
The Jolly Miller Park is an exciting new municipal park located on a rehabilitated Green P parking lot next to the iconic Jolly Miller Tavern in Toronto. The development features a miller's cottage ruin folly that symbolically reflects the milling heritage of Hogg's Hollow and the cottages once surrounding the West Don River. While historic connections and environmental rehabilitation were the focus of this project, the final plan includes comfortable spaces for relaxation, entertainment and community interaction. As this was a community driven project, the final concept combines the recommendations of a number of parties - including the Toronto Parking Authority, City of Toronto and the York Mills Valley Association - and culminates with a space that seamlessly blends the hard edges of stone wall ruins and exposed wooden structure with the soft features of the flower meadows and native planting areas.





msla's role: MSLA was the project's lead private consultant overseeing and providing background research, community coordination, design development, sub-consulting team coordination, detailed design & final working drawings, technical specifications & tendering, construction review.